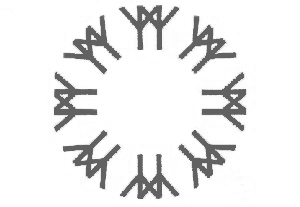 1967 marks a turning point in Nana's career and in Quebec History. This year, her tour life starts and there's talk everywhere about what has become of the Lower Canada of the past. Let's try here to highlight certain similarities in their progression towards worldwide recognition.
| | |
| --- | --- |
| | Nana first made herself known through Song Festivals in 1959 and 1960. She had the good fortune to begin at the time when the Greek music was a big success everywhere in Europe thanks to "Never on Sunday" by Manos Hadjidakis. Recognised abroad, she starts to travel and to adapt herself to other cultures by learning several languages. Thanks to Harry Belafonte, she understands the importance of discipline to face up to the demands of a tour schedule. Since her beginnings, Nana also transformed herself physically and her spirit undeniably changed. The journey that Nana followed prepared her well for the international career which awaits her. |
Between 1960 and 1966, Quebec was under the control of the Liberal Party, directed by Jean Lesage. This government had given itself the mandate to modernize and democratize the Quebec State and carried out among other accomplishments the nationalization of electricity and education reform. The Quiet Revolution is under way. Within a very short time, we attend to a great number of transformations in areas such as social, religious, political and economical aspects. Under the influence of these reforms, the culture and mentalities of the French Canadians will change at an incredible speed. For the next World's Fair, large-scale building works are brought into play: creation of an artificial island and construction of a subway and urban highways. This realization will contribute to make known Montreal and Quebec on a worldwide scale.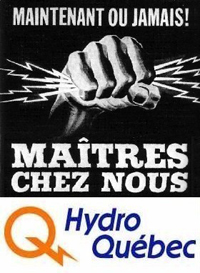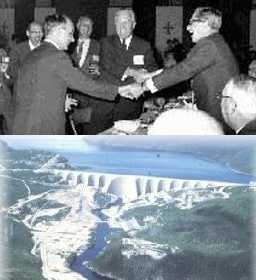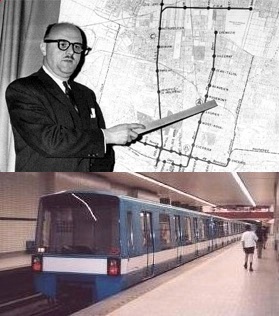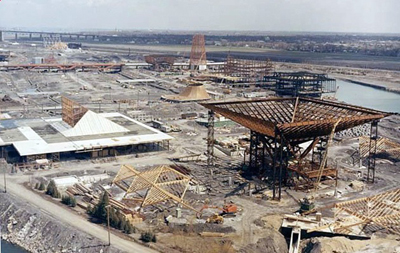 Slogan marking the beginning of Quebec nationalism. The logo of national electricity company; René Lévesque, Jean Lesage and Daniel Johnson, three politicians who contributed to the achievements of the decade: the hydroelectric power station Manic 5; Jean Drapeau, Montreal mayor of that time and instigator of the World's Fair. He inaugurated the first Metro lines; Man and His World still under construction. On the right, we see the Canada Pavilion.
| | |
| --- | --- |
| At the end of January 1967, Nana and her friends, The Athenians, make an appointment in Quebec to give 23 concerts. Every evening, it is a pleasure and a challenge to find herself in a different city and in front of a new audience. At the same time, it's the discovery of a new responsibility; the success of her concert depends on her performance. But her perfectionism only reinforces the admiration that the people of Quebec hold for her. This first solo tour marks a new step of her career. The experience will be repeated in several other countries. | |
On April 27, Expo 67 is inaugurated and its 90 pavilions delight those seeking new discoveries. Its success is something to make Quebecers proud as it welcomes more than 50 million visitors within six months. Several world notables travel to the event, including Charles de Gaulle, who on July 24, causes a real political scandal by repeating the motto of the republic «Vive le Québec libre!» (Long live Quebec!) from the balcony of the City hall. This unexpected declaration will go around the world.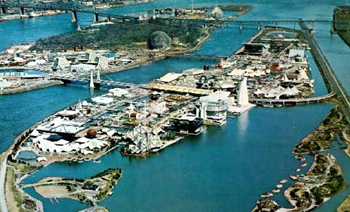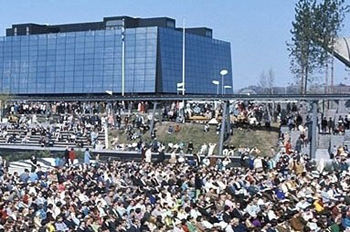 Aerial view of Sainte-Hélène and Notre-Dame islands; Crowds in front of the Quebec Pavilion; Charles de Gaulle at the time of his famous declaration.
| | |
| --- | --- |
| | The success Nana had here follows her as far as France. Immediately upon her return, she is in demand on both TV and Radio. With "C'est bon la vie" (Feelin' groovy), a song of optimism, in spite of the coup d'État of which her country is victim, Nana reaches a new audience and does her first summer tour giving her the opportunity to visit France. From October 26, Nana replaces Gilbert Bécaud at a moment's notice at the Olympia Theatre in Paris. There she knows a real triumph and receives most eulogistic reviews. Then, she retires in Geneva with her husband while waiting for the birth of their first child. |
| | |
| --- | --- |
| The great achievements of these years are the symbol of success of a Quebec society which asserts itself. On October 14, René Lévesque, journalist and important actor of the Quiet Revolution, leaves the Liberal Party. He is busy bringing together those who have the same aspiration and the following year, he will found the Parti Québécois whose main objective is to realize the sovereignty of Quebec. This man, whose humility makes him a natural leader, will work to bring together those who identify themselves more and more as Quebecers... in order to carry out his great dream! | |

When we compare Nana's path with that of Quebec, we realize that the year 1967 was determining. It was used to them as springboard to win fame on the international scene. We can be proud of having been witness to this important milestone when the destinies of an artist and a nation crossed.