The years 1970 to 1974...
Happy events that I remember from my childhood are related to my family, my school and my gifts like the two albums of Nana I received at the age of five. Since then I haven't stopped listening to her songs and keeping my interest about her. Already at that time, I spoke about her to my relatives, as much on my mother's than on my father's side. It wasn't long before I discovered that everyone knew her and that I wasn't the only one who had her records. During that period, there are four particular anecdotes which I keep remembering. Then, an unimaginated dream concretized these four years of passion.
ON MY MOTHER'S SIDE
Mom knew Nana Mouskouri. When she heard my first record, she pointed out about the quality of her recordings; the voice, the music and the sound. In order to reward me for my beautiful school reports, she gave me two of her albums. Any way I always asked records as gifts. It was sure that I was going to listen to them but after a while, I would put my toys aside.
| | |
| --- | --- |
| | Monique (1948-2013), my mom's sister, made me know Nana. Unknowingly and unintentionally, this one passed me on this passion. She gave me my two first records. She never bought any other because she liked diversity. Each time I went to her home, her radio was on CFGL-FM, a station that broascasted French music in priority. During her honeymoon in Walt Disney World in Florida, she sent me a postcard on which she wrote that I would like it as much as Nana. |
The two records that Monique gave me
ON MY FATHER'S SIDE

Over some years, the family Robert went to visit Aunt Viviane in Trois-Rivières for the New Year's supper. While looking at her records, I discovered the album "Quatre soleils". When I spoke to her about that, she told me how much she found her voice relaxing. In the early afternoons, after her sons backed to school, she used to lay down on her sofa and closed her eyes while listening to this record. Each time we returned to her home, I thought about that again.
Aunt Viviane's album
Shortly after, I learned that my godfather Gérard (1928-2012) had the albums "Le disque d'or" and "Récital 70". He loved to listen to her when he plastered and painted. She was his favourite singer with Vicky Leandros and Dalida. Later, he bought some other albums. Aunt Alice (1912-2007) watched all her TV concerts with her husband. She kept me her press articles. And dad (1933-2004) found that Nana is not a pretentious performer. He knew that I didn't have Aunt Viviane's album. Because I had been nice, he bought it for me.
FOUR ANECDOTES

1- On my return from school, I went to the nearest department store to buy an album. As I was only six years old, I wasn't numerate and I didn't have enough money. So I had to come back with the missing money.
2- While skating at the arena, I saw a woman who looked exactly like Nana. I was sure that it was her and I said: «It's Nana Mouskouri!» Perhaps she heard me?
3- In grade one, we started composing sentences in the negative form. After the correction of the exercises, the teacher announced to the group that a pupil wrote without mistakes "Nana Mouskouri ne mange pas de chocolat". (N. M. doesn't eat chocolate).
4- As I looked at an album cover, an uncle told me: «You know her, but she doesn't know you.» That observation often came back to my mind. It was, I think, a way to tell me not to make me any idea for not being disapointed.
An album stored in my furniture
UNEXPECTED ADVERTISEMENT

A Saturday of August 1974, my dad leafed through the section Arts & Spectacles of the daily newspaper La Presse. As he turned a page, I noticed a photo of Nana. It was an advertisement for her upcoming concert at Place des Arts! How could it be possible? In the past, the whole family went to see the Moscow Circus at Maurice-Richard Arena. But was it possible to redo an hour's drive, this time for the Nana show? Until then, that never came to my mind and to my great satisfaction, the response has been positive. Not only mom and dad were going to accompany me but also my sister! Aunt Nicole, who visited us that weekend, took in charge the ticket purchase. She also decided to come with us. During that time, I hand-fabriqued reply coupons and the whole family filled them.
Avertisement published in La Presse
THE BIG DAY

Friday, September 13 was the big day. After all these years listening to her records, I was going to see her in person. For this exceptional night out, my mother sewed me a brown suit. I was feverish but a bit annoyed because we didn't bring the camera and also because I was going to miss the interview presented the same evening on television. I remember the way we took, mainly the road 132 which runs along the St. Lawrence River and which leads us to the Jacques-Cartier Bridge. Upon our arrival in Montreal, we had supper at Da Giovani.

Shortly before 8 pm, we got into the hall Wilfrid-Pelletier. We were in the 12th row. I had the seat number 40, the one nearest the center. The most striking moment of the concert was when Nana came on stage. I exclaimed: "She's beautiful!». After the show, my father accompanied me behind the scenes so I can meet her. I remember that I was alone among tall people who passed before me. Finally, she saw me and spoke to me with a lot of kindness. In my program, she signed me: "For Stéphane a big kiss". When I left, just before passing through the door, I turned back to see her one last time. And to my surprise, she and all the people looked at me.
Nana as I saw her
THE NEXT DAY
We came back home late and the next day, I thought again about the emotion of the evening before. I was fulfilled to see her in concert and to meet her. But at the same time, it was in the past and that evening was the end of an episode. I already had 10 albums and 5 singles and my parents didn't buy me any more. But as I listened to her regularly, I felt the need to discover other songs. Also, seeing again Nana in concert is a dream that will haunt me during many years.

I was 9 years old and I started developing another passion: the Geography. I drew maps and I was eager to discover Space. I collected tourist brochures and mostly road maps. My 4th grade teacher also loved Geo. During the recess or after school, she spoke to me about her trips. She was impressed that a boy of my age be an admirer of Nana Mouskouri and because I knew by heart the capitals of each country.
I was 9 years old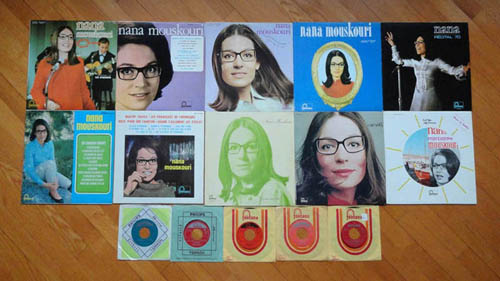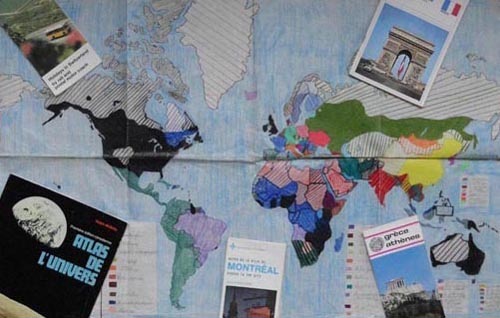 My first records: 10 albums and 5 singles. Brochures and my map representing the world's languages.
A PERIOD OF MY LIFE
The years 1970 to 1974 correspond to a very special period of my Life. They made me know unforgettable moments. While relating them, I have the impression to relive them a little. Today, I see how it's good to remember the wonder of our youth. Unfortunately, Life, little by little, leads us to lose that precious state of mind. Although at that time I was a growing child, that persistent enthusiasm for Nana and her music didn't stop to amaze around me.