When we think of Paul Potts and Susan Boyle, two candidates on "Britain's Got Talent", we only can be touched. Behind them, they leave a long path which led them to their destiny. Thanks to the discovery of their talent and with a wide press coverage, they became worldwide stars within a few days. At the same time, we cannot help wondering when was the first day of glory of our favorite singers and how they managed it.
It is not easy to give a date when everything began for Nana since that was done in various stages. At her beginnings, it was totally another era. In Greece, there was no television let alone Internet. The singers made themselves known mainly by their songs we heard on the radio and by their public performances. Moreover, the criteria of beauty in the fifties did not favour her. She suffered from plumpness, wore glasses even on stage and clothes which did not flatter her. Most of the time, she sang with eyes closed and hands behind her back.

Although she sang before 1959, this year has been quoted for a long time as the one of her professional singing beginnings, because at this moment she became famous all over her country. On October 3 of the same year, Nana won the first price of the Greek Song Festival with "Kapou iparhi agapi i mou" (My Love must be out there somewhere), a Manos Hadjidakis composition. From that night, we talk about Nana. People say that she grew up behind the big screen of the open air cinema where her father was a projectionist. She studied classical singing at the Conservatory of Athens and resigned herself from it because she wanted to sing all styles. Some also remember the American Independence Day when she has been cheered by thousands of sailors. People listen to her every time she's invited to sing on the radio and attend her song recitals in the nightclubs of Plaka.
But other stages will be necessary before reaching the celebrity that we know she achieved. The first one will coincide with the Mediterranean Song Festival in Barcelona in 1960, when representatives from the biggest European and American recording companies want her. Germany will follow with her first great success "Weisse Rosen aus Athen" with more than 1,000,000 copies sold. Thanks to Harry Belafonte, she will know the tour life. From 1967, she will present her own concerts before audiences she must win over each night. Without forgetting her BBC TV series, mainly between 1968 and 1976, which will also contribute to make her known in the whole Commonwealth and even beyond.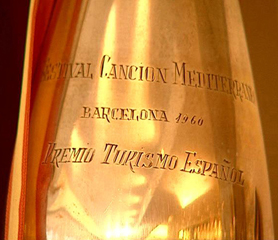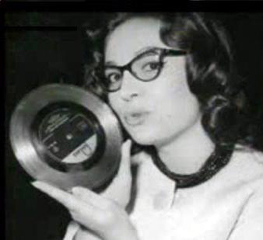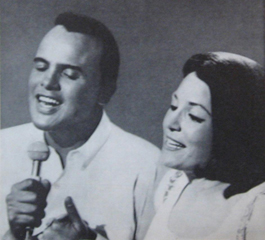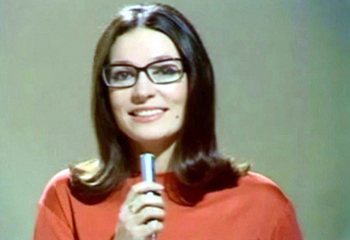 Throughout her career, Nana didn't suffer from media over-exposure. Reserved, she based her concerts on the emotion and not on visual effects. Her celebrity, Nana doesn't owe it either to video clips, because she prefers to adapt her songs according to her mood rather than to set permanent images to them. Her career lasts for 50 years and she's not finished surprising us because she has just recorded new songs and she intends to celebrate her 75th birthday on stage.
...1959, 1960, 1961...1967, 1968...