Germany

Allemagne

Alemania

Deutschland

2012
Goodbye is not farewell
| | |
| --- | --- |
| Nana sold more than one million records with the song "Weiße Rosen aus Athen" between 1961 and 1962. This phenomenal success elevated her career to an international scale. Since then, in Germany, Nana is a member of their artistic family. Present in the medias, she's regulary invited on the TV shows, even when she records less in their language. Nana won over this nation and each time she travels in that country, she finds a faithful and warm public. The honeymoon lasts for a half-century. When I decided to go there for the tour celebrating 50 years of that song, I chose the last four concerts: Nuremberg, Stuttgart, Munich and Hamburg. | |
Each night, whatever the theatre, the stage is set the same way. There is a piano and a big variety of guitars and percussions. The evening begins with Lénou, Nana's daughter, who opens her program to relate the day when she saw her mother on stage for the first time. This touching presentation intensifies the nice effect of Nana's entrance on stage.
| | |
| --- | --- |
| | Dressed in black, in red or in white, she wears an attractive blouse with a v-shape and a long skirt. Whether she clings to her microphone, closes her eyes, moves delicately, dances a few steps or sits down, she has lost nothing of her straightness. Concentrated, she weighs her words and the emotion is palpable. Professionnal, she knows how to set her voice and she corrects herself quickly when there is a little imperfection. She enjoys being on stage and shares it with her musicians turning back to sing for them. |
| | |
| --- | --- |
| At the beginning of the concert, Nana recognizes having said goodbye too early, and specifies that goodbye is not farewell. She relates that a singer always has the dream to see her daughter doing the same. Her mother already told her: «Wherever you are, I am there». Today, Nana thinks the same for her daughter as she also sings. Slender, elegant and graceful, Lénou is both reserved and confortable in her gestures. Alone or in duet with her mother, she sings in many languages and knows how to approach different styles. Her voice is deeper and she is more progressive. Seeing them singing together, we clearly feel that a nice complicity unites them; they smile, hold hands and listen to each other with admiration. We appreciate the nuances of their voices, especially when they sing in two octaves, as is the case for "Sieben schwarze Rosen". | |
The programme includes five songs never performed on tour; three from her last greek album and two in german. Among the titles that delighted the audience, there is of course "Le ciel est noir". This song is a real narrative that requires a remarkable articulation. Her conviction and her gestures of tragedienne complete perfectly her brilliant rendition. There is also "Hartino to fengaraki" almost sung A Capella, accompagnied by a piano and by a mandolin. And to set it even more melodious, she uses the hall's resonance by taking away her microphone. In her greek songs, her rendition is so intensive that even if we don't understand, we get the message. Moreover, the audience gladly participate by clapping their hands. It's also in this repertory that the music is at its best. "Erotokritos", by example, enhances the lute's sonority, an exotic instrument.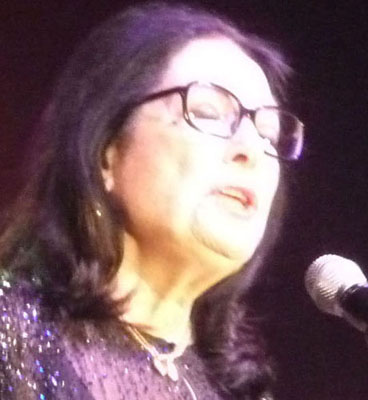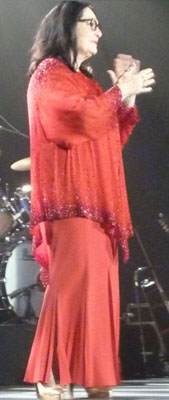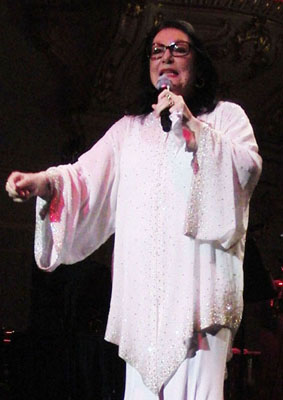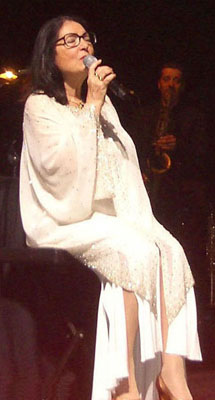 There are six musicians in her band:
Luciano Di Napoli - Band Leader, piano, keyboard and vocal
Philippe Pregno - percussion, saxophone, flute, clarinet and vocal
Jean-Philippe Roux (Pili) - bass guitar and vocal
Thomas Kostas - guitar and mandolin
Jean-Marc Debat - guitar, bouzouki and vocal
Jean-Philippe Batailley - drums
Luciano does the arrangements, Philippe is a polyvalent musician and Pili is touring for 10 years with Nana. The others had to learn everything within a short time and performed very well. Everyone brought a personal color to the show.

From left to right: Philippe, Pili, Luciano, Nana, Lénou, Thomas, Jean-Marc and Jean-Philippe.
First part:

Weisse Rosen aus Athen
Irgendwer sagt immer auf Wiedersehen
Erotokritos
Ich glaub an dich
Dari dari
Die Rose / The rose
Love is a matter of distance (Lénou) (1)
Odos oniron (Nana and Lénou)
Le ciel est noir




Second part:

Ta psaradika (Nana and Lénou)
Sieben schwarze Rosen (Nana and Lénou)
Vielleicht (Lénou)
Johnny Tambour
Try to remember
Pame mia volta sto fengari
Les feuilles mortes
Schau mich bitte nicht so an
Ich hab' noch einen Koffer in Berlin (2)
Over the rainbow
Lied der Freiheit
Guten Morgen, Sonnenschein / Canta canta minha gente (Nana and Lénou)
La Provence (Nana and Lénou)
Lieder, die die Liebe schreibt (3)
Milisse mou (Nana and Lénou)
Weisse Rosen aus Athen (Nana and Lénou)
Hartino to fengaraki - Ximeroni (4)
Ich hab' noch einen Koffer in Berlin (2)
1. "Love is a matter of distance" or the german version "Die Liebe ist eine Frage der Differenz"
2. sung only in Berlin
3. sung in Hamburg
4. "Hartino to fengaraki" or "Ximeroni"
After more than three years' absence, Nana needed to see again her fans and to do it in the context of a tour. For her, it was important to thank the ones who remembered her first big hit. Now that the mission is accomplished, does she think of repeating the experience in other countries? As Nana talked about goodbye, that could mean that there will be a next time without necessarily knowing where and when.

This return enabled me to live an unprecedented experience. I understood what is the everyday life of a troop during a tour. I have seen with what intensity Nana and her entourage face it; the perpetual race against time despite the very busy days with numerous travels, the schedule to respect…Each evening, they must perform their best. And that, despite the tiredness. I also appreciated the moments spent with the other fans. After the concert, we don't want to leave each other. We don't quit the place without waiting for Nana at the exit to greet her before she leaves. Then, we gather in a café to re-live the emotion we felt. Thanks to Dieter, Katrin and Beate who I travelled with, Marianne and Eva for their hospitality, Helga for my tickets purchase, Jutta for the correction of my texts. All are friends I knew thanks to Nana and I am happy for having met up with them.


A wandering Canadian in Germany
The day of my arrival in Nuremberg, I settled in a hostel located at 100 meters to the theatre. I chose this place because the friends who had my tickets had rented a room there. I was alone and I knew nobody. Moreover, there was no poster announcing the concert. With the six hours jet lag and the trip tiredness, I wondered if it was the right date and the right place. Also I had a lovely surprise when the bus carrying Nana's troop parked in front of the door. At that precise moment, I was sitting in the front hall starting to write this report. The musicians were the firsts to exit. They recognized me, greeted me and stayed a little while in the lobby. When Nana arrived, she saw me. Surprised and happy, she stood still. I discreetly waved to her while smiling and she hummed to me "Un Canadien errant banni de ses foyers parcourait en pleurant des pays étrangers…" (A wandering Canadian banished from his hearths traveled, weeping, through foreign countries), as I did for her the last time we met. What a big moment of emotions!
| | |
| --- | --- |
| | I regret not having been able to do the same for her in Munich, when during the encores, I was among the spectators gathered before the stage. She offered me the microphone to make me sing "Weiße Rosen aus Athen", but unfortuantely, I didn't know the couplets in german. In Hamburg, I sat on the balcony, practically over the stage. When she saw me, she waved at me for a long time. Before she left, she thanked me for having come. She also told me that Canada is important for her and that she wants to come back. It warmed my heart and I immediatly thought to all the compatriots. Thanks Nana. This trip was at the right moment and did me a lot of good. It acted like a balm for the difficult time lately lived. It will also remain a nice memory buried in the bottom of my heart, that sometimes, I am convinced, will help me to be reconciled with less happy moments. Goodbye Nana...and see you soon! |
musikmarkt.de: Nana Mouskouri: Jubiläums-Tour 2012 unter dem Motto "50 Jahre Weiße Rosen" (October 26, 2011)
oe24.at : Nana Mouskouri meldet sich zurück (October 28, 2011)
radio-kreta.de: Nana Mouskouri – "50 Jahre Weiße Rosen – Die Jubiläumstournee" (December 11, 2011)
Frankfurter Rundschau: Nana Mouskouri: Ich mag Lena (January 17, 2012)
relevant.at: Nana Mouskouri ist zurück (February 24, 2012)
noe.orf.at : Nana Mouskouri ist zurück (February 25, 2012)
n-tv.de: Nana Mouskouri kehrt zurück (February 27, 2012)
bild.de: Brillentausch mit Nana Mouskouri (March 1st, 2012)
nordbayern.de: Nana Mouskouri singt in Nürnberg (March 4, 2012)
VIDEO: farbundstil.de: Nana Mouskouri kommt zurück (March 5, 2012)
rp-online.de: Nana Mouskouri auf Abschiedstour (March 9, 2012)
bunte.de: Nana Mouskouri: So schön ist ihre Tochter (March 13, 2012)
TV: Saturday, March 24, 2012 - 20h12-22h10 - ZDF, ORF - Willkommen bei Carmen Nebel
VIDEO: Nana & Lenou Mouskouri - Sieben schwarze Rosen 2012 (March 24, 2012)
radio-kreta.de: Nana Mouskouri ist wieder da - mit Verstäkung (March 25, 2012)
purepeople.com: Nana Mouskouri et sa fille Lénou sur le plateau de l'émission Wilkommen bei Carmen Nebel (March 26, 2012)
eco-online.de: Nana Mouskouri "Ich träume immer, wenn ich singe" (April 4, 2012)
oe24.at: Begegnung mit Nana Mouskouri (April 5, 2012)
VIDEO: zdf.de: Monalisa (April 7, 2012)
VIDEO: mediathek.daserste.de: Nana Mouskouri ist wieder auf Tour (April 10, 2012)
aargauerzeitung.ch: Nana Mouskouri: Brille ist wie ein Schutzschild (April 10, 2012)
kreiszeitung.de: Weiße Rosen blühen noch (April 13, 2012)
weser-kurier.de: Nana Mouskouri begeistert Bremer Fans (April 13, 2012)
haz.de: Ovationen im Stehen für Nana Mouskouri (April 13, 2012)
emsdettenervolkszeitung.de: Nana Mouskouri rührte Fans mit "Weißen Rosen aus Athen" (April 16, 2012)
blick.ch: Nana Mouskouri: "Die erste weisse Rose kam von Alain Delon" (April 18, 2012)
badische-zeitung.de: TICKET-INTERVIEW: Nana Mouskouri kommt nach Baden-Baden und Zürich (April 19, 2012)
wienerzeitung.at: Nana Mouskouri: "Unsere Aufgabe ist es, Hoffnung zu geben" (April 20, 2012)
VIDEO: ardmediathek.de: Nana Mouskouri auf Jubiläumstour (April 21, 2012)
nzz.ch: «Was ich mit dieser Brille gelitten habe!» (April 22, 2012)
faz.net: Schau mich bitte nicht so an (April 22, 2012)
abendblatt.de: Nana Mouskouri: Wo ist Buddy Hollys Brille jetzt? (April 26, 2012)
news.at: Weiße Rosen blühen heute in Wien (April 27, 2012)
fotocommunity.de: Nana Mouskouri Konzert in Wien (April 28, 2012)
diepresse.com: Nana Mouskouri: Noch immer genug Drama und Pathos (April 29, 2012)
nordbayern.de: 50 Jahre weiße Rosen: Nana Mouskouri in Nürnberg (April 29, 2012)
stuttgarter-zeitung.de: Nana Mouskouri in Stuttgart: Und ewig lockt die Schwermut (May 1st, 2012)
espressophoto.de: Nana Mouskouri - Weisse Rosen aus Athen (May 2, 2012)
bilder.viadata.de: Nana Mouskouri die Jubiläumstournee!
50 Jahre

"Weiße Rosen aus Athen"

Website launched by a German fan couple who share their finds about the white roses' origin.
White roses bloom again

Page that relates the main lines of white roses' history throughout Nana's career.
CD Rendez-vous (German version)
01- Sieben schwarze Rosen (duet with Lénou)
02- Pauvre Rutebeuf (duet with Alain Delon)
03- Grande grande grande (duet with Julio Iglesias)
04- Here's to you (duet with Joan Baez)
05- Adieu Angelina (duet with Roch Voisine)
06- Tous les arbres sont en fleurs (duet with Lénou)
07- Guantanamera (duet with Francis Cabrel)
08- C'est bon la vie (duet with Alain Souchon)
09- La vie, l'amour, la mort (duet with Lara Fabian)
10- Aux marches du palais (duet with Serge Lama)
11- Suzanne (duet with Graeme Allwright)
12- Je chante avec toi liberté (duet with Herbert Léonard)
13- Canta canta minha gente / Guten Morgen, Sonnenschein (duet with Martinho Da Vila)
14- Le temps des cerises (duet with Dave)
15- Le ciel est noir (duet with Garou)
16- Plaisir d'amour (duet with Charles Aznavour)
17- Weisse Rosen aus Athen (with Paul Kuhn Bigband)
RELEASED ON MARCH 23, 2012