Reunion with Athens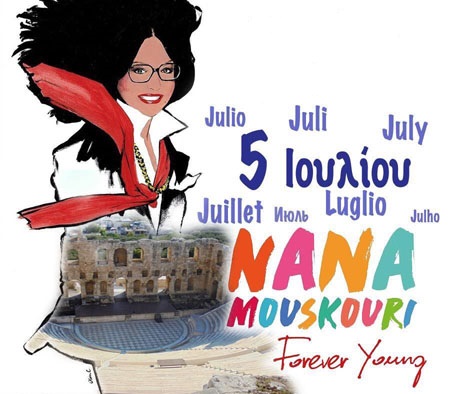 Among the winter and the spring concerts of 2018, I decided to write about those of Paris and Montreal, two cities with which Nana has sentimental ties. The Forever young Tour continues during the summer. In order to follow up on my first report, I choose Athens. Nana made her beginnings by singing on the radio and in the clubs. Then she became famous by winning the Greek Song Festival in 1959. The new rendezvous is set for July 5 at the Odeon of Herodes Atticus. Nana returns to give her twelfth concert since 1984. The evening is sponsored by the association ELPIDA which helps children suffering from cancer.
| | |
| --- | --- |
| | My enthusiasm to return to Greece after ten years makes me lose the sense of time. But I don't forget the date of the show and I'm ready for another evening of songs with Nana. While the theatre is filling up, the spectators discuss between themselves. Some express their joy of attending this new concert. Others are impressed that after 80 years of age Nana continues to perform. Among them, we notice several admirers wearing a white t-shirt with her name and her glasses. During the previous days, I had the opportunity to share a meal with some of them. Whether Greek, American, French, Italian or German, these are all friendships created thanks to Nana's music. In the crowd, we can also see her sister Jenny and her niece Aliki Katsarou. |
The first row is exclusively reserved for celebrities and dignitaries. Photographers and cameramen watch their arrival. The president of ELPIDA, Marianna Vardinoyannis, welcomes them. Among them, the singers Mario Frangoulis, Georges Perris, Sakis Rouvas, Helena Paparizou, the composer Mímis Pléssas and the manager and politician Ilias Psinakis. Also, the Greek President Prokópis Pavlópoulos, the actress and Minister of Culture, Lydía Koniórdou, the former Queen of Greece, Anne-Marie, and several ambassadors.
At 9:20 pm, as the sun sets, the projection of the videorama begins. Since the last tour, some old photos with Nikos Gatsos (poet) and Manos Hadjidakis (composer) have been added. This time, I pay more attention to the shots of Greece, especially those where Nana performed in that theatre.
| | |
| --- | --- |
| In 1984, she made her grand return in her own country. In the sequences, she comes on stage and sings a capella Schubert's "Ave Maria". The 2008 concert marked the end of her world tours. Moved, Nana waves her public for a long time. These two great moments lived with her compatriots are immortalized on film. I feel fortunate to be in this mythical place located at the foot of the Acropolis. | |
| | |
| --- | --- |
| | While the eyes of the 5,000 spectators are riveted on the two giant screens, the orchestral music takes over delicately. Once the projection is over, we are plunged into the night. Under the spotlights, Nana is greeted by her percussionist who streches out his hand. She wears the same black tunic as in Montreal, with sleeves embroidered with fine laces. Alone in front of her microphone, she starts with a classical melody, "Gloria eterna" by Handel. Through much of the evening, her emotions are palpable. We can understand her; Nana is at home and before her compatriots. Probably to better manage her stage fright, she adds humor in her speeches. The audience, warm, listens to her with admiration and respect. Everyone is proud of her and knows that for 60 years she promotes Greek music in the world. |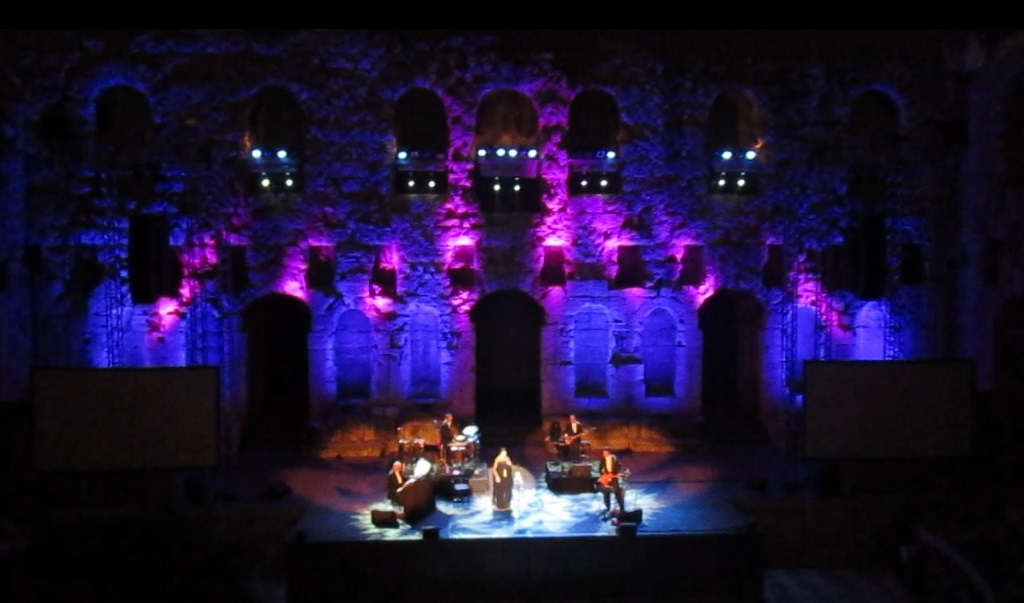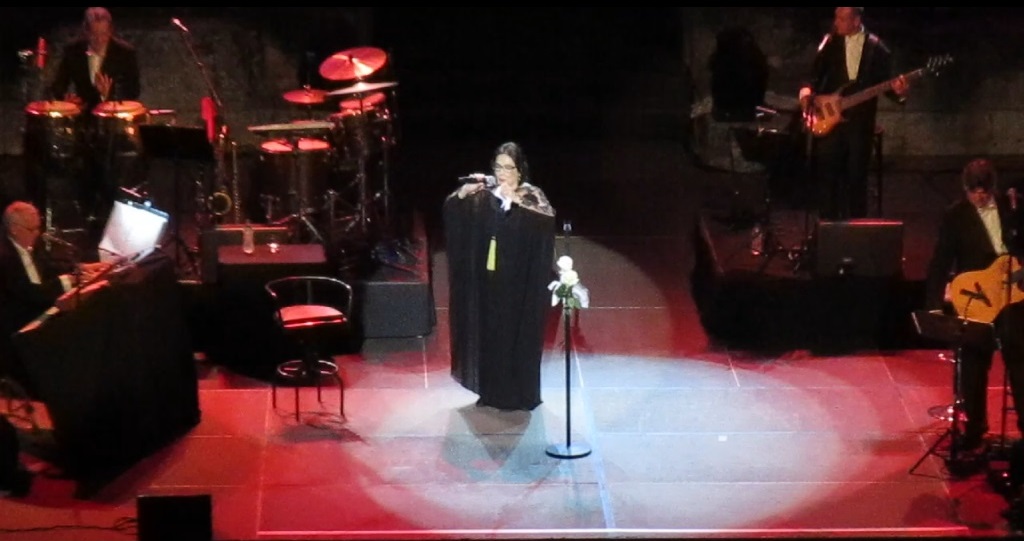 | | |
| --- | --- |
| Although recently I have attended many of her concerts, Nana still surprises me. I am struck by "To pedi me tou tambourlo" accompanied by the vibrating tam tam of the musicians. What about her rendition of "Forever young"! And of course, "Le ciel est noir", an essential that captivates me from the beginning to the final crescendo. I am also impressed by the crowd singing with her. Their whisper is perfectly audible during light music accompaniments as it's the case for "Pame mia volta sto fengari" and "Hartino to fengaraki". After the concert, some fans will tell me that they have greatly appreciated that she sings less common titles such as "Ki' an tha dispasis jia nero", "Xero kapio asteri" and "To pelago ine vathi". I agree with them. | |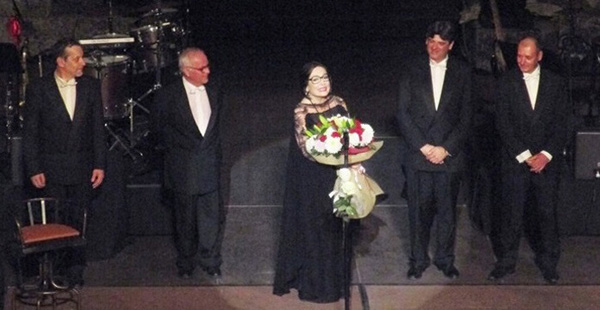 There are four musicians in her band. From left to right:
Philippe Pregno - wind intruments, percussion and vocal
Luciano Di Napoli - Band Leader, piano, keyboard and vocal
Yannick Deborne - guitar and vocal
Jean-Philippe Roux (Pili) - bass guitar and vocal
Concert given in Athens on July 5, 2018:
Videorama: Ta pedia tou Pirea; Kapou iparhi i agapi mou; Athina; Nanourisma; Hartino to fengaraki.
1- Gloria eterna
2- Ki' an tha dispasis jia nero
3- To pedi me to tambourlo
Presentation of the musicians
4- Enas mythos
5- In the ghetto
6- Xero kapio asteri
7- Xypna agapi mou
8- Kapou iparhi i agapi mou
9- Tora pou pas stin xenitia
10- To pelago ine vathi
11- San sfirixis tris fores / Weisse Rosen / The white rose
12- Cucurrucucu paloma
13- Sa jeunesse
14- Forever young
15- Pame mia volta sto fengari
16- Ela pare mou ti lipi
17- Love is a losing game
18- Aspri mera
19- Smoke gets in your eyes
20- Lily Marlene
21- Les feuilles mortes
22- Over the rainbow
23- Le ciel est noir
24- I endekati entoli
25- Plaisir d'amour
26- Hallelujah
27- Amazing Grace
28- Hartino to fengaraki
INTERVIEW WITH NANA
During our short interview after the gala, Nana shared with me her happiness to be back in Athens. She showed me the Filopapou hill where she used to go with her friends as a young girl and talked about the open air cinema of Koukaki where her father worked as a projectionist. Before leaving, Nana reminded me of the wonderful love story that links her with my homeland and said that she also feels Quebecer.
If we could, we would have certainly continued our last conversation about Leonard Cohen. She had so great esteem for him and the exhibition of his work at the Musée d'art contemporain Art in Montreal moved her a lot. Nana regrets that she did not have time to record a duet with him as they wished. With pleasure, I would have told her a little personal anecdote. As I know that she will read me and that maybe some are curious to know it, I decide to share it. This one is about the house that Mr. Cohen bought in the early 1960s on Hydra Island.
| | |
| --- | --- |
| | A few days before the concert, I went to visit the island. As I passed his house, a man came out. Intrigued, I asked him if it was possible to visit it and if it had been sold. He shook his head with a smile. I told him that I am a Quebecer. Me too, he replied. While he was waiting for his little boy who was following him, I asked him if he could take a picture of me in front of the street name. He kindly accepted. Then, I understood: «Ah!, but you are his son!» Yes, he replied. As he gave me back my camera, I marveled at his presence. Then, he slowly walked away while wishing me a pleasant stay. This man, freshly shaved and impeccably combed, probably went out for dinner. And yet, if I had not spoken to him, I would never have guessed who he is. Thank you Adam Cohen for these few moments of happiness! |
A MOMENT OF REUNION
In 2008, I attended her farewell concert in Athens. I was right to believe there would be others because I came back. The one of 2018, I also consider it as a moment of reunion. That city means more than any other in her journey since everything began there. Morever, throughout the concert, we felt this reciprocal love between Nana and her compatriots. My presence among the spectators allowed me to interact with many and to discover new details about her. And by setting down on paper my observations, I feel like reliving this exceptional evening. At the same time, I share it with all those who read me and who didn't have the chance to attend it.