Still a suitcase in Berlin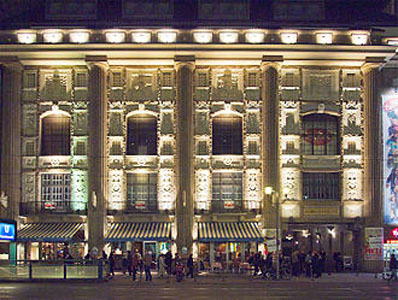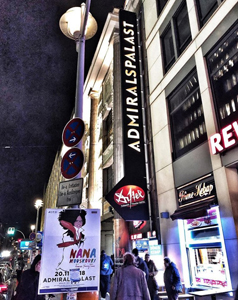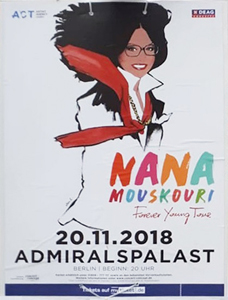 The Forever young Tour which began in January 2018 continued throughout the year. In the autumn, Nana gave several concerts, especially in Germany. That's why the one of Berlin seems to me the most important. Especially since many memories link her to this city. In June 1961, she came for the very first time on the occasion of the Film Festival. Nana presented the documentary "Traumland der Sehnsucht" (Greece, Dreamland of Desire) in which she performed five songs. It won a Silver Bear and during the following months, her first 45 rpm "Weisse Rosen aus Athen" / "Addio" sold more than one million copies. Since then, she has recorded numerous German-language albums and she toured extensively throughout the country.
| | |
| --- | --- |
| On 20 November 2018, Berliners gathered at Admiralspalast. Nana performed for the third time in that theatre and she was on her 23rd visit to the capital. The numerous posters fixed on the street lamps suggest that the promotion was effective. Indeed, the 1,756 seats were rented. Among the spectators, there were fans from various parts of Germany and different European countries. I was there too. When I attend concerts abroad, I like to notice new details and observe the audience's reaction. So, why not share it with other fans by writing a new article? | |
That evening, Nana wears a black dress decorated with a white scarf, the same as in Paris. As soon as she arrives on stage, the spectators get up to give her an ovation. She's in excellent shape and in voice. There is no doubt. Music is her reason for living and she fully shares her passion. For the public's enjoyment, Nana sings the German versions of "A place in my heart" (Mein Herz hat noch Platz für dich), "Song for Liberty" (Lied der Freiheit), "The white rose of Athens" (Weiße Rosen aus Athen) and her national hits like "La Provence" and "Lieder, die die Liebe schreibt". Two numbers, in particular, animates the audience. First, "Cucurrucucupaloma" that she coos like a bird. And, "Amazing Grace", a blues version interpreted with intensity.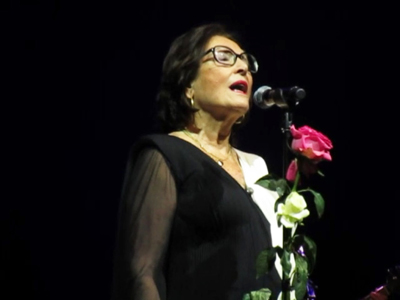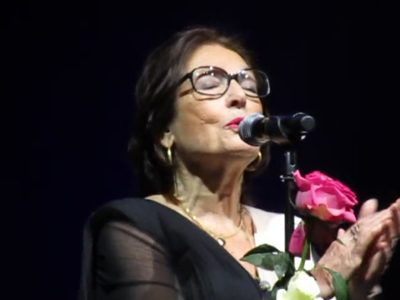 Her choice of performing "Ich hab' noch einen Koffer in Berlin" (I still have a suitcase in Berlin) from Marlene Dietrich is quite judicious. In this city, she leaves a lot of memories and she still has reasons to return. Moreover, if her daughter Lénou is in the hall tonight, it's because she lives there for two years. That is one more reason for Nana to feel at home. Just like in Montreal where her son Nicolas and his wife settled to start a family.
| | |
| --- | --- |
| | Throughout the evening, Nana maintains a warm connection with her fans and tells many anecdotes. She mainly speaks German and occasionally English. At the beginning of the show, she pays tribute to her friend Charles Aznavour, recently deceased. From his song "Sa jeunesse", she concludes that we must live intensely the present moment. That's why, like him, she wants to sing as long as possible. Note that an excerpt of Nana with Aznavour in duet has been added in the videorama. During this sequence, the spectators reacted warmly. |
Obviously, the concert would not be the same without her faithful musicians. Each one, with his music, contributed to the success of that evening. Luciano, her pianist and ally for thirty years, keeps his eyes fixed on her. With his knowing glance, he reassures and conducts her while playing piano and singing. Philippe masters a variety of instruments that he plays with delicacy and parsimony. His duet on saxophone with Nana is quite exquisite. Pili, the bassist, and Yannick, the guitarist, support her with their instrument. They gain attention especially when Nana invites them to vibrate their strings at her side. We must also highlight the wonderful work of her two technicians: Stéphane Gral for the sound and Dominique Renoux for the lighting.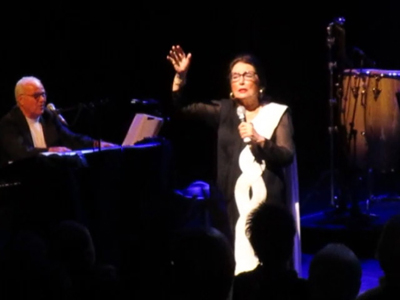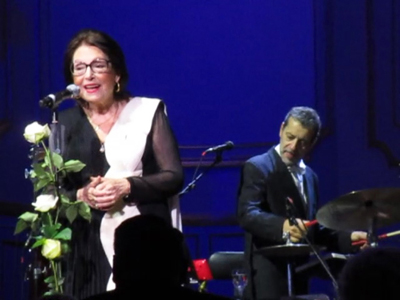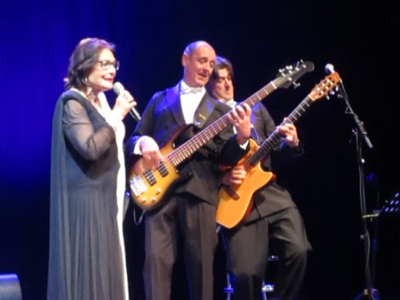 In summary, Berlin fans spent a pleasant evening with Nana and her musicians. For two consecutive hours, the five performers offered a well-executed and generous concert. With its beautiful participation and its spontaneity, the audience was very demonstrative. For me, the Quebecer, it was an opportunity to hear a different repertoire and to see old friends. All of them will meet in the spring of 2019 for new concerts.
Concert given in Berlin on November 20, 2018:
Videorama: Ta pedia tou Pirea; Kapou iparhi i agapi mou; Athina; Nanourisma; Hartino to fengaraki.
1- Gloria eterna
2- Scarborough Fair / Canticle
3- Die Rose / The rose
Presentation of the musicians
4- Sa jeunesse
5- Forever young
6- To pedi me to tambourlo
7- Mein Herz hat noch Platz für dich
8- La Provence
9- Lieder, die die Liebe schreibt
10- Cucurrucucu paloma
11- In the ghetto
12- Odos oniron
13- Sieben schwarze Rosen
14- Love is a losing game
15- Lily Marleen
16- Schau mich bitte nicht so an
17- Ich hab' noch einen Koffer in Berlin
18- Over the rainbow
19- If you love me
20- Le ciel est noir
21- Lied der Freiheit
22- Hallelujah
23- Amazing Grace
24- Weiße Rosen aus Athen
25- Hey Jude
26- Guten Morgen, Sonnenschein
27- Turn on the sun
28- Milisse mou
29- Ta pedia tou Pirea
IN GOOD COMPANY
Nana knew that I attended the concert. At the end, when I gathered with other fans before the stage, she approached me to see who I was. She recognized me and greeted me with her fingers. A meeting was planned, but finally it was not possible. I hope that there will me another time.
| | |
| --- | --- |
| However, I had the joy to converse a long time with Luciano (her arrangeur and musical director) and Marie-Claude (her assistent). Nana is very fortunate to be able to count on them. They gave me a rendezvous in the lobby of their hotel at the end of the afternoon and they stayed with me until the cell vibrates. It was Nana. She was still in her room and was about to leave for the theatre. This beautiful friendship with that charming couple began several years ago. Since then, we had the opportunity to meet in several countries: in Quebec, in Greece, in Germany, in Spain and in France. | |