From Paris to Montreal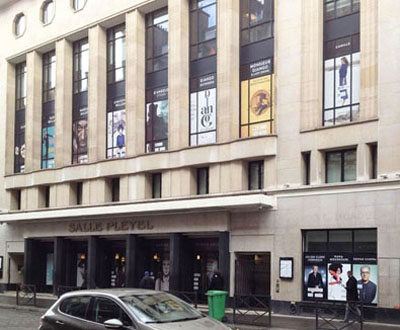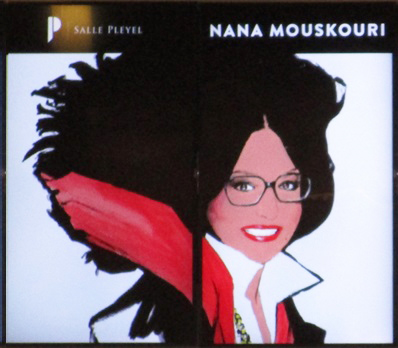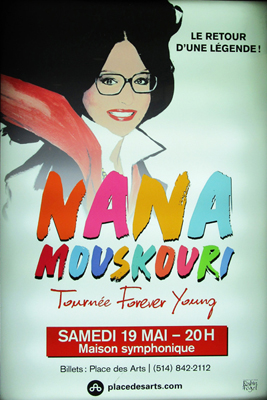 Following the announcement of new concert dates for 2018, the fans gathered in several major European and North American theatres to see and hear her. The tour called "Forever young" coincides with the release of her new album. As I attended the concerts of Paris and Montreal, two cities with which Nana has sentimental ties, I decide to write a report about them. In 1961, Nana arrived in Paris, a city from where her career took an international stature. On March 8, at Salle Pleyel, she gave her 22nd headlined concert. In 1965, Nana came to Montreal. She met her first North American audience. On May 19, at the Maison symphonique. She was back for her 25th tour.
The new show begins with a 8-minute videorama. On Greek songs, it shows us video excerpts, photos of her debut in her country in 1958 until her farewells in Athens in 2008. It illustrates the highlights of her career, her numerous meetings and her commitments for UNICEF and the European Parliament. Once again, I am moved by her journey, but also by the 1,900 spectators who came to applaud that exceptional singer. At the end of the projection, the musicians are already on stage and begin to play. As soon as Nana arrives, the whole audience gets up spontaneously to give her a long ovation.
| | |
| --- | --- |
| | In Paris, she wears a black dress decorated with a white scarf on the front. This one was created for the occasion by her friend, the fashion designer Jean Paul Gaultier. Like many personalities, he is present in the hall. We also notice the singers Serge Lama and Vincent Niclo, the actress Nathalie Baye and the former President of the French Republic Nicolas Sarkozy. Fans from various European countries also came for the event. On their behalf, is laid a bunch of 60 white roses for her 60-year career. |
| | |
| --- | --- |
| In Montreal, Nana chooses another creation by Gaultier: a black tunic. The sleeves and shoulders are embroidered with fine laces. In that city too, people from the artistic and political class are among the spectators. Moreover, Nana emphasizes the presence of the chansonnier Jean-Pierre Ferland. He is accompanied by his wife, the singer Julie-Ann Saumur. In the front rows are the Ambassador of Greece, Dimitris Azemopoulos, Canada's First Lady, Sophie Grégoire Trudeau. And of course, her son Nicolas and his wife. | |
| | |
| --- | --- |
| | At the beginning of the concert, I notice that Nana moves little, probably to keep her concentration. She clings to her microphone, sometimes closes her eyes and looks at the spectators from left to right. Throughout the evening, she maintains a warm connection with her fans. They know her songs, accompany her by clapping their hands and sing with her. Nana gladly tells anecdotes about her long journey and even takes the time to turn towards her musicians to sing for them. |
After a couple of songs, she introduces them. They are only four, but their talent is enough to accompany her well. Yannick, the guitarist, sings some duets with her. Pili supports her with the low notes of his bass and his voice. Philippe, the percussionist, plays several instruments including saxophone. And, Luciano, the pianist in charge of all arrangements, gives her always the first note.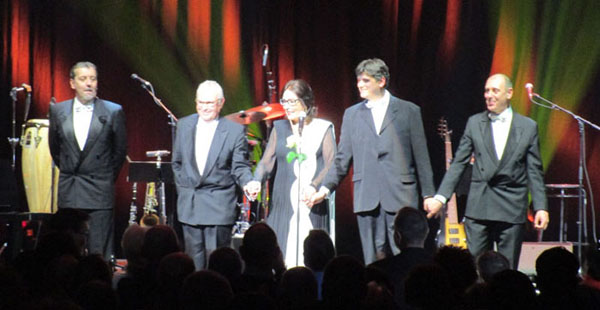 There are four musicians in her band. From left to right:
Philippe Pregno - percussion, saxophone, flute, clarinet and vocal
Luciano Di Napoli - Band Leader, piano, keyboard and vocal
Yannick Deborne - guitar and vocal
Jean-Philippe Roux (Pili) - bass guitar and vocal
| | |
| --- | --- |
| Nana seems comfortable in her personal choices, in musical styles in which we are less accustomed to hear. For Presley's gospel, "In the ghetto", she grabs the microphone and lets herself carry by the music. With Dylan's "Forever young", she gesticulates, projects her voice and engages the crowd. Many are struck by her jazz performances, such as "Love is a losing game" that she ends on the same note as the saxophone. Her blues version of "Amazing Grace" also surprises several. | |
Among the famous titles, it is necessary to emphasize three of them. "Cucurrucucu paloma" in which she takes pleasure to strech the notes. "Le ciel est noir" which requires the knowledge of an elaborated text. Her interpretation and the expressiveness of her gestures captivate the audience that gives her a long standing ovation. And, "Je chante avec toi liberté", strongly applauded after its superb final notes.
Concert given in Paris on March 8, 2018:

Videorama: Ta pedia tou Pirea; Kapou iparhi i agapi mou; Athina; Nanourisma; Hartino to fengaraki.

1- La vie, l'amour, la mort
2- Tora pou pas stin xenitia
3- L'histoire de nous
Presentation of the musicians
4- In the ghetto
5- Pauvre Rutebeuf
6- Pame mia volta sto fengari
7- Jamaica farewell
8- Comme un soleil
9- Try to remember
10- Cucurrucucu paloma
11- Sa jeunesse
12- Forever young
13- Odos oniron
14- Love is a losing game
15- Le temps qu'il nous reste
16- L'enfant au tambour
17- L'amour en héritage
18- Smoke gets in your eyes
19- Quand on s'aime
20- Lily Marlene
21- Les feuilles mortes
22- Over the rainbow
23- Le ciel est noir
24- Plaisir d'amour
25- Je chante avec toi liberté
26- Amazing Grace
27- Weisse Rosen / San sfirixis / Roses blanches
28- Quand tu chantes
29- Le tournesol
30- Milisse mou
31- Hallelujah
32- Hey Jude
33- Hartino to fengaraki

Concert given in Montreal on May 19, 2018:

Videorama: Ta pedia tou Pirea; Kapou iparhi i agapi mou; Athina; Nanourisma; Hartino to fengaraki.

1- He moved through the fair
2- La vie, l'amour, la mort
Presentation of the musicians
3- Ximeroni
4- L'amour en héritage
5- Je reviens chez nous
6- Try to remember
7- Cucurrucucu paloma
8- In the ghetto
9- Sa jeunesse
10- Forever young
11- Love is a losing game
12- Odos oniron
13- Le temps qu'il nous reste
14- Lily Marlene
15- Les feuilles mortes
16- Over the rainbow
17- Le ciel est noir
18- Je chante avec toi liberté
19- Plaisir d'amour
20- Hallelujah
21- Amazing Grace
22- L'enfant au tambour
23- Ta pedia tou Pirea
24-Turn on the sun
25- Hartino to fengaraki
Parisians and Montrealers attended a generous, pleasant and moving gala. During two consecutive hours, Nana chained song after song and had fun with her musicians who displayed their talent. Conquered, the spectators were even like a chorus for Leonard Cohen's "Halleluya". After several decades, her fans remain faithful. They have been waiting for this moment for a long time and hope for her return very soon.
| | |
| --- | --- |
| With "Forever young", Nana had good reasons to be back on tour. The selection of titles, mostly in English, is excellent. The spectators greatly appreciated to hear her singing these songs even though they were popularized by other artists. Since a big part of her Francophone public was present, let us wish them a new album in their language for the next season. It has to be followed... | |