Charles Aznavour 1924-2018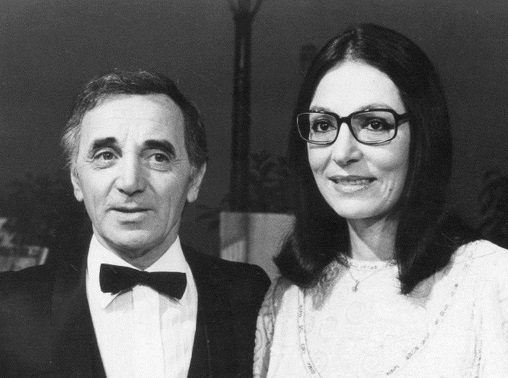 On October 1st, 2018, a legendary French Chanson star has left us at the respectable age of 94. Nana who knew him in Greece in 1961 has lost a great friend. They often performed together on television, on stage and at the studio, such titles as "Plaisir d'amour", "Milisse mou" and "Mourir d'aimer".
Nana has always been inspired by Aznavour's journey and repertoire. Like him, she did a farewell tour and recorded a duet album. She also covered two of his compositions: "Salvame Dios" (1962) and "Sa jeunesse" (2018). Nana still admires the artist and the longevity of his career.
VIDEO: frantvinfo.fr: Charles Aznavour: le témoignage de Nana Mouskouri (October 1st, 2018)
ici.radio-canada.ca: « Le vrai boss », « le roi » : les artistes réagissent à la mort de Charles Aznavour (October 1st, 2018)
lefigaro.fr: «Une icône», «un guide», «un maître»... Les hommages se multiplient après la mort de Charles Aznavour (October 1st, 2018)
quebec.huffingtonpost.ca: Nana Mouskouri louange les chansons d'Aznavour (October 1st, 2018)
AUDIO: rts.ch: Charles Aznavour, dernier des géants de la chanson française, s'est éteint à 94 ans (October 1st, 2018)
AUDIO: rts.ch: Forum: Décès de Charles Aznavour: interview de Nana Mouskouri (October 1st, 2018)
morgenpost.de: Was Nana Mouskouri von Charles Aznavour gelernt hat (October 2, 2018)
linfo.re: Décès de Charles Aznavour : les hommages se multiplient (October 3, 2018)