Do you remember the day when you heard Nana's voice for the first time? When it was? Where were you? If you are a long time fan, you may remember the era when she wasn't yet very known. Let us recall here her first steps in America as some interesting details which undoubtedly went unnoticed.
| | |
| --- | --- |
| | Greek people are the first who heard Nana, whether it was those who live in Greece or those who emigrated abroad. In the large metropolis of Canada and of United States, there are important Hellenic Communities, and from Nana's beginnings, their specialized shops imported her records from Greece. Some American companies like London, President and Riverside had the curiosity to publish the song "Athina" in Greek and in German. While Mercury had released "Ta pedia tou Pirea", here, in Quebec, some radio stations had some of her Greek singles under Fidelity label. |
| | |
| --- | --- |
| In June 1962, at the request of the producer Quincy Jones, Nana flies to New York. After three weeks listening records in her hotel and attending concerts in Broadway and in Harlem, she enters the studio. She records 27 songs under the direction of Torrie Zito and 7 with the producer Shelby Singleton. During the autumn, Fontana, a division of Mercury Records, puts on the market "The Girl from Greece sings", a twelve songs album. In Canada, it is distributed by Quality Records, a company established in Toronto. In our homeland, there is initially a mono pressing followed by an extremely rare stereo edition. And the single "Wildwood flower" enters the Hit Parade Radio. In November, it reaches number 27 in Chicago, city where is Mercury's head office, and the 37th row of the Canadian Chart. | |
| | |
| --- | --- |
| In 1963 and 1964, in the USA, "Never on Sunday" and "The voice of Greece", two collections of Greek songs come out. At the same time, London Records, based in Montreal, takes charge of her records releases with the albums "À force de prier" and "My favourite Greek songs". As Nana is not very known, her French Extended Plays are imported in small quantities. They are mainly available in the big Montreal record shops as Archambault Musique that specializes more in French music. In September 1964, the singer Harry Belafonte, who had seen her appearance at the Eurovision Contest, asks her to pass an audition in New York. The month after, Nana joins his troop and together, they start a tour of American universities and colleges. In the meantime, in Quebec, we start hearing "Quatre soleils", a Greek lullaby. On the Trois-Rivières Radio Station CHLN, it is the most requested song. It is only a beginning, because during months, several other radio stations will play it regularly. | |
| | |
| --- | --- |
| | In February 1965, "The Umbrellas of Cherbourg" comes out in Quebec theatres. This Jacques Demy's musical film puts the spotlight on Catherine Deneuve and Nino Castelnuovo. It relates the history of two Lovers parted by the Algerian War. The film won the Palme d'Or at the Cannes Festival and was well received by the critics. In parallel, the original themes composed by Michel Legrand are launched. Nana already recorded the two principal songs and they are included in her album and on her single that come out at the same time. |
From May to September, Nana and Harry perform in the major theatres of Canada and the United States. They begin at Place des Arts where they run during two weeks and end at the Greek Theatre in Los Angeles where they give 24 performances. Montreal is the city where Nana has the most impact because her songs are well known and she ensures the French part of the show. Journalists meet her and write articles that allow Quebecers to know her better.
For her visit in Canada, the album "The Girl from Greece sings" is re-edited with another cover. In United States, she completes "Nana sings", an album produced by Bobby Scott which will be released in July. In order to show a range of her European career, London Records decides to release her two German albums and the one in Italian. All these albums will stay only a couple of years on the Canadian market and it will take a long time before we find them in the second hand shops. They mainly come from radio stations, libraries that got free samples or from big collectors who bought all the new records. There are also some early fans who bought them and who by attachment preserved them preciously, till the day their heirs got rid of them.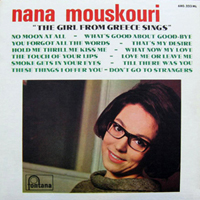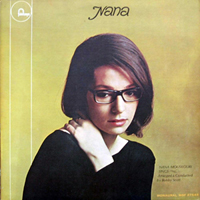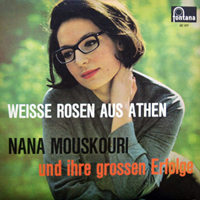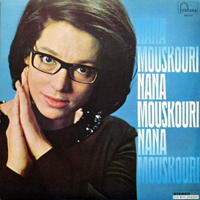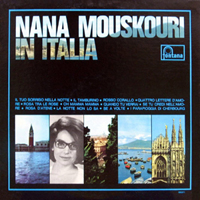 | | |
| --- | --- |
| For our southern neighbours, Nana makes prestigious TV appearances of which Danny Kaye's variety program and Johnny Carson's talk show. Belafonte invites her to do two new tours with him during 1966. Together, they record an album of Greek songs which is selling well as "The voice of Greece" and "Nana sings". On the other hand, none of the four released singles over there ranks in the charts on the national scale. | |
In Latin America, several records are pressed during these early years. In Brazil and Venezuela, there is the album "The Girl from Greece sings", in Argentina, the one with Harry Belafonte and in Chile, the albums "Songs of my Land" and "Le cœur trop tendre". Some of her French songs are also released on various artists compilations or on singles in Mexico, in Colombia, in Peru and in Argentina. All these records are in fact just a sample of what is sent to these various franchises. Moreover, her first Spanish songs are not marketed. Besides, Nana didn't have time to go there yet.
Here, in Quebec, 10 consecutive titles are played steadily by the radio stations. After "Quatre soleils", "Les parapluies de Cherbourg", "Quand s'allument les étoiles", "L'enfant au tambour", "Remets mon coeur à l'endroit", "Ce n'était rien c'était mon cœur", "La dernière rose de l'été", "Un Canadien errant", "Ses baisers me grisaient" and "Guantanamera". With the arrival of new 33 rpm, her section keeps on extending in the record shops. There is initially "Remets mon coeur à l'endroit", a compilation of her latest and first unreleased songs here. Then, "Chants de mon pays" (Songs of my Land) which is a continuation of her first Greek album and "Un Canadien errant", the title of one of our Folk Songs. For these two, a special edition will be released on the Mercury label. There is no doubt, Quebecers have adopted her and a solo tour is announced for the beginning of 1967. Samuel Gesser, Belafonte's Montreal impresario will take her under his wings.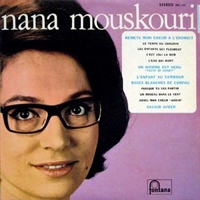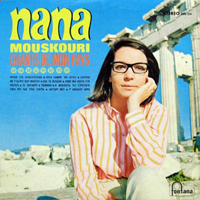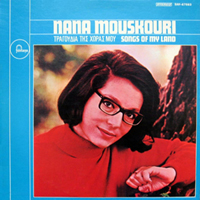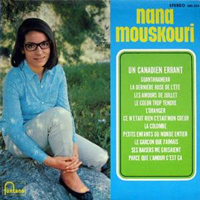 The first Nana's producers in America focused their efforts on the USA market. But much to their great surprise, she firstly became known in Quebec. For Nana, the fact of recording on another continent and to know there the tour life turns out to be an enriching experiment. The big Adventure in America is far from the end. It's only the end of the first episode.