À force de prier
Favourite album
MY CHOICE
A record or a book can become a favourite, if itís a gift, if it represents a specific memory or if we have long wished to get it. Precisely, it took me fifteen years to acquire the album that I would like to share with you. The reason is simple; by the time I learned about it, it was discontinued. It appeared with other records on a LP back cover that Aunt Monique gave me at Christmas 1970. Just the photo where Nana lowers her glasses intrigued me, gave me the impression that this record had something different. For years, I inquired. But nobody knew it and it was unfindable, even in import. The fans will have guessed. This is "ņ force de prier", Nana's first French 30 cm. From the beginning, I knew the title of the songs without having heard them. Finally, in 1985, thanks to a specialist in used records, I took possession of it. You can imagine that from then on I played it steadily!


THE COVER
For many years, I had to content myself with this small black and white photo as a reference. I don't know why, but I imagined the cover differently, with a red background and a blue sweater. Rather, itís a photo with a yellow-orange background and Nana wears a dark brown sweater. Her name is written in yellow and the titles in white. On the back cover, on the left, appears the song list. On the right, four of her EPs and one 25 cm released in France.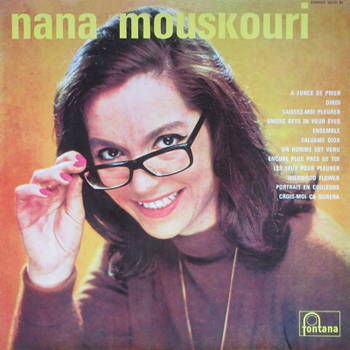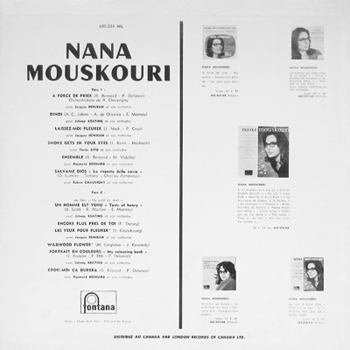 THE CONTENT
"ņ force de prier" was produced by Gťrard Cote. Most of the twelve songs are part of those from her beginnings that remained unfindable until the release of her French Anthology. They come from various recording sessions made in New York, London and Paris between June 1962 and March 1963. Most of them are compositions by French authors and covers of American hits. As much for the orchestration as for the way of singing, that album could be classifed in the category light jazz.
SIDE 1
| | |
| --- | --- |
| 01- The first song, "À force de prier", was created for the Eurovision 1963. Considering the scale of the event, she recorded it in four languages. Nana, who represented Luxembourg, didnít win the contest, but her performance, which was seen by 50 million viewers, made her known throughout Europe. The following year, thanks to this title, she obtained the Diploma of Marathon de la Chanson franÁaise. From the first notes, this melody gains in intensity. It says that thanks to praying, imploring all the gods of Love, singing his name, the one that she loves will come. | |
| | |
| --- | --- |
| | 02- "Dindi" is the work of the Brazilian composer AntŰnio Carlos Jobin, the same who created "The Girl from Ipanema". A girl bearing this nickname makes the one who loves her happy. This one tells her not to worry and implores her not to leave him now that he means to her. They say that the nickname is quite fictitious and refers to a farm called "Dirindi" in Brazil that Jobin used to visit. |
| | |
| --- | --- |
| 03- "Laissez-moi pleurer" is the kind of a song that demonstrates Nana's ability to adapt to popular music styles. Inconsolable of having lost her heart, she asks to let her cry, because it makes her feel better. Obviously, this is part of her early musical experiences. Nana turned more and more towards ballads, a style that suits her more. | |
| | |
| --- | --- |
| | 04- When Nana recalls her recording sessions with Quincy Jones, "Smoke gets in your eyes" is the first song that comes to her mind. For a long time, I knew the superb slightly rhythmic version by The Platters. That of Nana, equally moving, earns us with sweetness and emotion. It was not until the release of her mythical album on CD in 1999 before she performed it in her concerts. |
| | |
| --- | --- |
| 05- "Ensemble" makes us discover Nana singing with a romantic voice, even a sensual one, which talks to her beloved. Together, they live their heyday when the night unites them for the feast of Love. Together, they are alone, they are feeling good. And nothing can separate their entwined hearts. Hats off for the orchestration and interpretation chosen for this kind of song! | |
| | |
| --- | --- |
| | 06- "Salvame Dios" is an adaptation of "La risposta della novia" popularized by the Italian singer Milva. The French text by Charles Aznavour relates that when the moment to say yes, a bride silently calls out to the one she loved and who is in the church. Desperate, she implores God to save her. The acoustic, the intensity of the instruments and Nanaís powerful interpretation make this cry from the heart wonderfully. |
SIDE 2
| | |
| --- | --- |
| 01- In early 1963, in London, Nana recorded "Un homme est venu" on the music of the film "A taste of honey". Two years later, Bobby Scott's original composition regained popularity thanks to the instrumental version of Herb Alpert & The Tijuana Brass. In France, the single was reissued for the jukeboxes. And, in Canada, the song was released in another album. We heard it regularly on the radio. Thatís why itís the most famous of the twelve titles in Quebec. | |
| | |
| --- | --- |
| | 02- When this LP came out, "Encore plus près de toi" was the real gem to discover. As this song wasnít included in her EPs, it remained, until then, unreleased. Two years later, its release on single coincided with Nana's first visit to Montreal. Isn't it nice to hear her sing on a rhythm of yť-yť years that if everything had to be started over again, she would live even closer to him! |
| | |
| --- | --- |
| 03- Serge Gainsbourg wrote for many female singers. "Les yeux pour pleurer", the first of his four songs that Nana has recorded during her career, evokes the despair after a disappointment in Love and the joy of a new Love found. Itís the only jazz song that she performed during her very first solo tour in Quebec in 1967. Since 2006, it is part of many tribute compilations to the author. | |
| | |
| --- | --- |
| | 04- "Wildwood flower", a famous country song thanks to The Carter Family, was recorded in New York with the orchestra of Shelby Singleton. It came out on a single and in November 1962 it appeared in the American and Canadian radio Charts. Shortly after the release of this album, Nana covered it in French under the title "Avant toi". In her BBC TV series in 1968 and 1971, she performed it in a more catchy way with The Athenians. |
| | |
| --- | --- |
| 05- "Portrait en couleurs" is the French version of the American ballad "My colouring book" popularized among others by Barbra Streisand. In it, Nana specifies which colours to use to bring out her moods. For Swiss television, she recorded a clip in which she appears behind painting frames, approaching easels and handling a paintbrush. This song makes us understand how colours can illustrate what you don't necessarily see in a person. | |
| | |
| --- | --- |
| | 06- For her album "The Girl from Greece sings", Nana had recorded a bilingual version of "Et maintenant", Gilbert Bťcaudís big success. This time, she covers another of his songs: "Crois-moi ça durera". Accompanied by trumpets, violins and light percussion, Nana swears that they will love each other for a long time. What could be better than ending an album on such an optimistic note! |
WHY THIS CHOICE?
I realize that my choice may not be the same as the majority of fans. Like the public in general, they would probably have opted instead for an album including songs that are more identified with Nana. But I assume it. Some thirty years ago, I spoke about this first French 30 cm to an admirer who pointed out to me that Nana sang louder than on her other LPs. This is undoubtedly due to the fact that at her beginnings she was asked to bite her words, to pronounce her "r" well while giving emotion. Anyway, this record means to me. It illustrates a more unusual period of her career and that fulfills me. It must also be said that I have it so desired and sought. This has undoubtedly prompted me to play it so often.
A FAVOURITE
I was delighted to listen to these twelve songs once again! Thanks to my research, I have rediscovered them and it seems to me that I appreciate them more. The various pressings of this 33 rpm reached at the very most 15,000 copies. In my opinion, this contributes to make it more precious. In 1968, a limited stereo edition was released in France. And, in 2004, it came out as digipack CD with twelve bonus tracks in her French Integral. Moreover, itís also available on online music sites. I have a crush on this record, but itís certainly not the only one. Who knows if, soon, I decide to devote an article about another album?