The gold records, a fascinating topic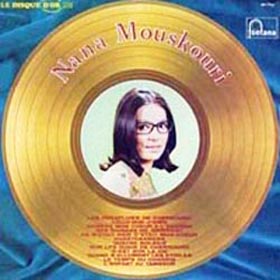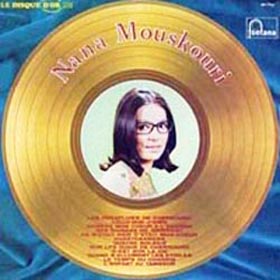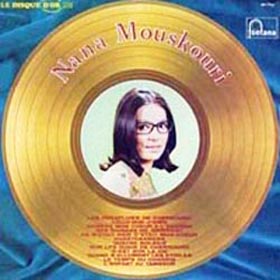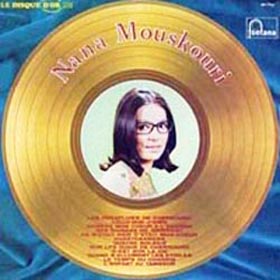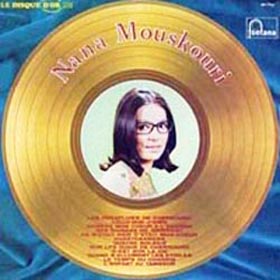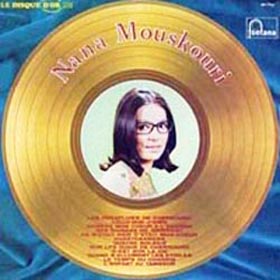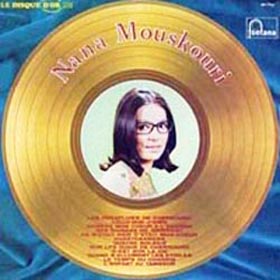 Nana is undoubtedly the artist who is most identified with her gold records. In the articles, they are often used as a reference and the mention "The gold record" appears on several compilations. And, how not being impressed when she is posing before her wall of trophies and knowing that she has received more than 200 in her long career? The topic is fascinating and deserves a little attention. Here is a text evoking the origins of this award, the association that certifies them and the main acquisition periods of her Canadian gold records.
WHY A GOLD DISC?
| | |
| --- | --- |
| A gold disc is an award highlighting the sale of a certain number of copies. This matrix covered with a silver, gold or platinum layer is most of the time framed. Since its creation in 1942, it attracts press attention on artist's records which have sold a million copies. The first one was presented to Glenn Miller for one of his 78 rpm. Gradually, the gold disc became a promotional strategy for several record companies. In Germany, in 1962, Nana earned one thanks to the song "Weisse Rosen aus Athen". This confirmed the beginning of an international career. In many cases, artists do not always sell one million of a single recording, but some achieve many big hits and it is important to highlight them. This is the case of Nana at her beginnings in Greece: she obtained one for all her singles which broke sales records. | |
One million white roses in Germany
With the development of the music industry, gold records became common. Their first goal: reward opus that achieved a great commercial success. In order to standardize the award allocation, the associations representing the recording market set a certification threshold and required proof of sales. The number to be reached varies according to the market and the population of each country. In the United States, it was 500,000 units and in New Zealand 7,500. After the disc crisis, in the 2000s, the number required to earn the award was reduced. In Canada, in particular, it decreased from 50,000 to 40,000 copies.
THE CANADIAN RECORDING INDUSTRY ASSOCIATION
In 1975, Music Canada, formerly the Canadian Recording Industry Association (CRIA), began to reward records sold in Canada. At that time, singles were more popular. A gold single corresponded to 75,000 copies and a platinum single to 150,000. In 1982, its certification threshold became identical to that of albums, 50,000 for gold and 100,000 for platinum. In order to know those earned by an artist, just visit its official website. By consulting its lists, it's interesting to discover the most popular titles and the figures reached. In Nana's section, there are 20 gold and platinum albums. However, those who follow her career for decades may be surprised that some records do not appear there. They remained in the charts for several months and were often found in large quantities in the record shops. With good reason, we can think that there were omissions. Especially since there is no trace of some artists who have been very popular in our homeland.
ON FOUR PERIODS
The acquisition of Nana's Canadian gold records spans over four periods. Each one has played a role in the development of her success throughout the country. Relevant information leads us to reflect further on the topic.
LONDON RECORDS (1963-1980) 19 gold and platinum records (6 recognized by Music Canada)
| | |
| --- | --- |
| | In 1963, the company London Records, based in Montreal, supported the distribution of her recordings. The following year, Nana started to be known by her French songs in Quebec. And from 1967, she presented her own tours in Eastern Canada. Thanks to her recordings and her frequent returns, she gradually broke through on the English-speaking side. In September 1974, London presented to her a gold disc to mark her first million records sold throughout the country. This demonstrates that the company kept its sales statistics carefully. On so many units, who knows if there are not a few that have reached 50,000 or 75,000 copies? In any case, at that time, there were still no figures established to give a reward. One thing is sure: there is at least the album "Comme un soleil" since 18 months later, Nana earned a gold record for sales having exceeded 80,000 copies. |
First million records in Canada.
From 1975, Nana added Western Canada to her itinerary. In 1977, it could be estimated that she was as popular on the English-speaking side as on the French-speaking side. As evidence, that year, five albums in both languages were certified golden: "Le disque d'or", "Comme un soleil" (second time golden), "British Concert" (the following year, it will be platinum), "Une voix qui vient du coeur" and "Christmas with". Each one bears the CRIA mark.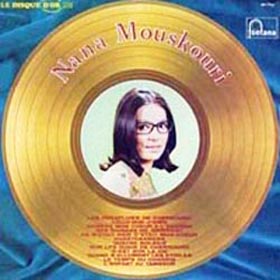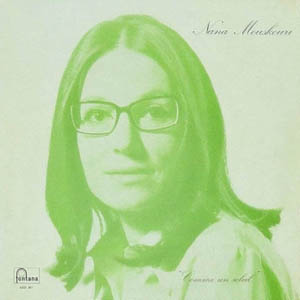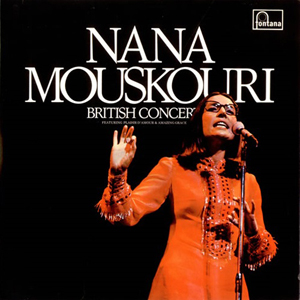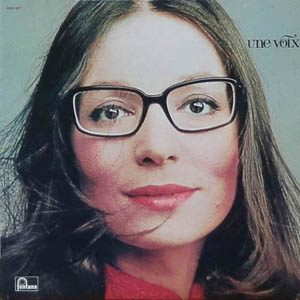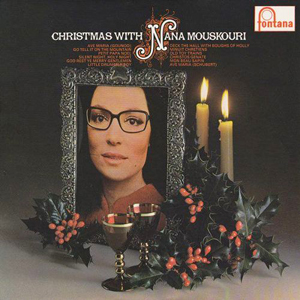 In October 1979, Nana celebrated her 20-year career at the Olympia Theatre in Paris. On this occasion, the firm Phonogram offered her 67 golden disks from all over the world, including 11 from Canada. However, no one knows the titles and they do not appear on Music Canada's list. Most of them undoubtedly date back to the time when certification wasn't yet established. Then it is unlikely that the companies kept permamently all the documents relating to their sales.
2- CACHET & GRAND RECORDS (1979-1981) 8 gold and platinum records (5 recognized by Music Canada)
| | |
| --- | --- |
| From 1979 to 1981, her new albums were the exclusivity of two local companies that distributed them throughout North America: Cachet Records and Grand Records. The album "Roses & Sunshine" went gold, platinum and double platinum and "Come with me", gold and platinum. However, Nana confirmed to the press that "Roses & Sunshine" had become triple platinum (300,000 copies) and "Come with me", double platinum (200,000). But as these two companies must close quickly due to bankruptcy, did they have time to prepare the frames? With Grand Records, "Roses & Sunshine" achieved gold status. In this case too, was it given to her? | |
3- POLYGRAM (1980-1999) (8 gold and platinum records recognized by Music Canada)
| | |
| --- | --- |
| | In 1980, her record distribution moved from London Records to PolyGram. This transition coincides with the peak of her sales on the English-speaking side. Thanks to her numerous tours, her albums continued to sell very well. Among those dating from London's era, only were rewarded: "Christmas with", platinum, and "Spotlight on", gold. This leads us to believe that PolyGram didn't consider the statistics of its predecessor in the sales figures. |
New albums marked this period. First, in 1982, "Je chante avec toi liberté" which went gold and platinum and "Song for Liberty", gold. These trophies were presented to her four years later. And in 1988, it was the turn of "Ma vérité" to become gold. With the end of the vinyl, in 1990, a large part of the statistics disappeared from the current catalog. Without exhaustive research, it's impossible to know the exact number of copies sold since its release. This is probably why other albums, very popular, were not certified. The CD "The very best of - Only Love", released in 1991, is the only other PolyGram title appearing on the Music Canada list. It went gold and platinum after three years.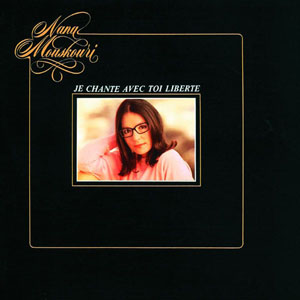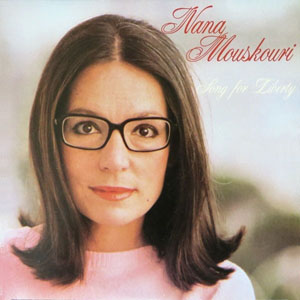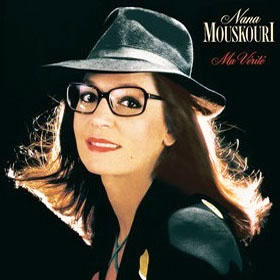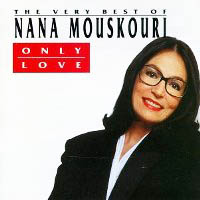 4- UNIVERSAL (1999-2021) (1 gold record recognized by Music Canada)
| | |
| --- | --- |
| | Since the establishment of Universal in Canada in 1999, the music industry has changed a lot. People buy fewer CDs and listen more to their music on their electronic devices. In order to satisfy the demand, the firm approves in particular the purchase of music on-line. During this period, Nana's compilations are becoming more numerous. The most popular, "Gold", is aptly named. An advertisement on TV for several months as well as a tour across the country in 2003 contributed to it to become gold record. |
COMPLEX TASK AND POSSIBLE OMISSIONS
Tracking record sales for several years can be a very complex task. Some get a new title or a new serial number. And when a format is discontinued, a part of the statistics disappears from the current catalog. Moreover, if a new franchise reissues one, the previous statistics are not part of their sales. For some of these reasons, it makes sense to believe that several gold or platinum discs have been forgotten. Before discovering them, we can think about those from Canada that are mentioned in her programs and in the newspapers of which there is no trace: "Nana's Book of Songs", "Gospel", "Quand on revient" and "Tu m'oublies".
TESTIMONIES AND AWARDS
Gold records appeared three-quarters of a century ago. Thanks to the certification thresholds established by the various music industry associations, they became more accessible. If for the companies they are testimonies of important sales, for the artists, they are above all rewards. Nana, who has recorded a hundred albums, received several. Although they are only an imitation of precious metals, the gold, platinum or silver discs impress, fascinate. They became sources of reference for statistics lovers. And for the songwriters, musicians and producers who have contributed, a shared pride.