"Je chante avec toi liberté" - 40 years!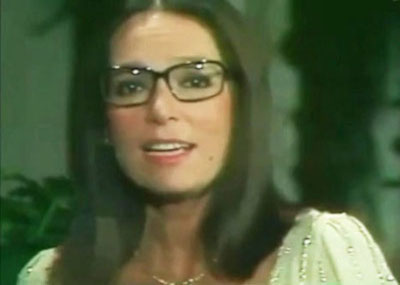 Dozens of songs marked Nana's long career. Most of them have gone through the decades while remaining topical, like "Je chante avec toi liberté", the adaptation of a classical melody. If the fans were asked to quote their favorite title, it would probably be that one. In addition to being in all her compilations, Nana performs it in each of her concerts. It's not surprising that she chose it for her album of duets. Let us look back to its adaptation, its origins, its different versions and the great moments that Nana lived by singing it.
ADAPTATION IN FRENCH
Nana took years to add the work of the Italian composer Guiseppe Verdi to her repertoire. Finally, in 1981, the conductor, Alain Goraguer, created arrangements that suited her with classical instruments including violin and an omnipresent choir which is accentuated in the crescendos. And the songwriters Pierre Delanoë and Claude Lemesle offered her the expected text, the one about Liberty. Whether it be that of the human being or of the peoples, this theme is important to her. The title, composed of a complete sentence, distinguishes it from the famous poem by Paul Élouard. The whole team was enthusiastic. However, the former director of Philips, Louis Hazan, found that it didn't fit with her voice. He insisted that her new album bears not this title. "Qu'il est loin l'amour", a composition of Alain Goraguer, was choosen.
| | |
| --- | --- |
| | On 19 September of the same year, during her TV show "Numéro un", Nana performed the classical melody for the first time. The success was instantaneous. That evening, the TF1 call center was constantly busy. The next day, the company was overwhelmed by events. At the factory, several machines must exclusively manufacture her records to meet the demand. So, Nana managed to sell daily 67,000 copies of her latest album. With good reason, the company decided to entitle it "Je chante avec toi liberté". Within three months, the song was pressed more than one million times (600,000 singles and 400,000 albums) in France only. |
In December 1981 and January 1982, Nana had the opportunity to perform it several times on television, as she prepared her return to Paris. Indeed, for four weeks, she must give headlined concerts at the Olympia with an autobiographical show entitled "D'ici et d'ailleurs". Meanwhile, the song was still playing daily on the radio. So the single reached 723,000 copies. The 33 rpm remained in the charts throughout the year and became her best-selling French-language album. Same scenario in Belgium and Quebec because it was certified platinum.
ORIGINS

During this return to the City of Lights, major French magazines devoted articles to her. Some noted that the release of this record coincides with the arrest of Polish union leader Lech Walesa. According to Nana, this is a pure coincidence, because it is three years since she wants to record it and her lyricists discovered its origins after writing the text.

From the opera "Nabucco" by Verdi, this anthem was created and played in 1842 at the Scala in Milan. Its original title, "Va, pensiero, sull'ali dorate" (Go, thought, on wings of gold), was interpreted by the choir and evokes the Biblical episode of Jews slavery in Babylon.

IN ENGLISH

In April 1982, for her four tours in North America, the English version was launched. It was the title of her new album "Song for Liberty" which went gold in six months in Canada. It will be released in thirteen countries. After the mega hit of "Only Love", in 1986, the song regained popularity. A video clip was released and it was included on several LPs, CDs and singles.
IN GERMAN

Also in 1982, in the autumn, the German adaptation came out. "Lied der Freiheit" had a more modest sales success as the French version was released before. It was set on the side 2 of a single and has been reissued in several compilations. Her most memorable television performance is the one of her show "Zum Glück gehört Musik", in 1983, in which Nana performed it with a police choir.
IN SPANISH AND IN PORTUGUESE

In 1986, Nabucco's melody became the main theme of two new albums. One in Spanish, "Libertad", pressed in 18 countries, was certified multi-platinum in Spain, Argentina and Chile. It sold more than a million copies. An identical new one in Portuguese, "Liberdade", came out in Portugal, Brazil and the United States. On this occasion, Nana recorded a video clip of the title song in both languages, as well as in English, which was sent to the television stations everywhere in America. In this video, she sings while children prepare the unveiling of a Statue of Liberty model. At the very end, its torch is illuminated.
IN ITALY
The following year, in Italy, a compilation including "Song for Liberty" was released. Nana sang it during a TV show. Amazed by her interpretation, the host asked her when she would do it in Italian. She remains unanswered. As she presented only that record for her return to this country, Nana didn't have the opportunity to fulfill it. And if that had happened, would she have chosen the original text of the classical choir or the one of Liberty that made it so popular?
CLASSICAL ALBUM

In 1988, Nana fulfilled a dream by bringing together many of her favorite classical tunes in the same album. On this occasion, she recorded new adaptations and included her essential as "Habanera de Carmen", Schubert's "Ave Maria" and of course "Nabucco". This album, which was released in twenty countries and sold by millions, probably confirms that this is her most pressed song.

GREAT MOMENTS
| | |
| --- | --- |
| | Over the years, this song made Nana live great moments. On July 14, 1982, the French National Day, she sang it for soldiers stationed in Berlin. The following year, during a tour in East Germany, she set it in her program despite the recommendations of the promoters. In July 1984, on her return to Greece, "Souviens-toi de ta misère. Mon pays, tes bateaux étaient tes galères." (Remember the days of your misery. My country, your boats were your galleys.) took on a particular meaning. If on stage, Nana sings it with a soundtrack, in 1989, at the Zenith Paris, she was accompanied by 60 musicians and 40 singers. |
How can we forget her most famous TV performances? In Monte Carlo, at the "World Music Awards 1992". For "Star Academy 2002", with the finalist Emma Daumos. In Brussels, in 2007, during the 50th anniversary of the Treaties of Rome. And at the ancient theatre of Orange, as part of "Musique en fête 2014". Nana also covered it in duet with Herbert Léonard and Vincent Niclo. What a great way to share and make this extraordinary melody and text known to new generations!
A SIGNATURE SONG
By recording this hymn to freedom, Nana has achieved a feat: to introduce us to classical singing while reminding us one of our fundamental values. Her versions in five languages have been heard all over the world and continue to charm music lovers. Nabucco became a signature song and cleared her regrets for not being an opera singer. Mr. Verdi would be proud of her adaptation and that she inspired so many performers and choirs to do the same.