"Je reviens chez nous" - 50 years!
"Je reviens chez nous" (I'm coming back home), one of our most famous songs, is celebrating this year its half-century. It has been covered by a whole host of accordionists and performers like Georges Guétary, Les Compagnons de la Chanson and of course Nana Mouskouri. The former Prime Minister René Lévesque already declared that it was the most committed song of Quebec. First let us review what led the author to compose it and the message he wanted to pass. Then how Nana discovered it and made of it an international hit.
| | |
| --- | --- |
| | Jean-Pierre Ferland is among the chansonniers who marked Quebec's cultural and identity awakening in the 1960s. At that time, he made several round trips between France and Quebec. His European career was well started, he signed with the record company Barclay and the medias praised his talent. On Christmas Eve 1966, alone in Paris in a hotel in front of Notre Dame Cathedral, he had Quebec sickness. Despite the snow, he would prefer to be in his home in Sainte-Adèle with his girlfriend. Nostalgic, he wrote the lyrics and the music of "Je reviens chez nous". The song was released in February 1968. In Paris, the album won the Grand Prix de l'Académie Charles Cros and in Montreal the one of Festival du Disque. |
The author considers his poem as a love letter and says that the seasons are reversed. It snowed in Port-au-Prince, Haiti's capital, while all year round temperatures are above 20º Celsius. It's raining in Chamonix, a town at the foot of Mont Blanc. And we can cross the Garonne by foot, one of the main rivers in France. But if it's sunny in Paris, it should be the same everywhere. He begs her friend to stay in the warmth. The distance makes him sad and he fears the loneliness on his return. If during his journeys abroad he couldn't tame everything, it is because of his attachment to his homeland. Among the instruments that accompany him, we can hear in particular cello, guitar and castanets. The ones who know Jean-Pierre Ferland say that this song reflects his temperament. He prefers the countryside than the city and when he could settle in France for his career, he decided to come back to Quebec.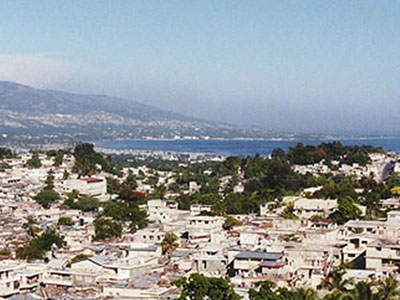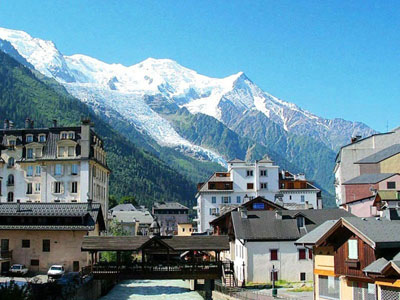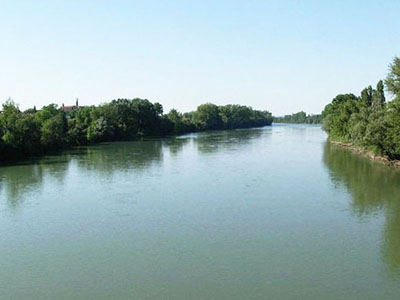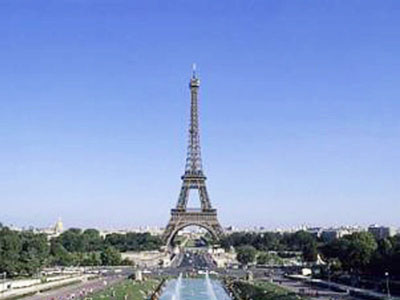 Port-au-Prince, Chamonix, the Garonne and Paris.
| | |
| --- | --- |
| In her apartment in Paris, Nana heard the song on the radio. She immediately liked the lyrics and the melody. So she asked to the lyricist Hal Shaper to adapt the English text in two verses. On May 13, 1971, she sang it for the first time in her BBC TV series. Then, she recorded it with The Athenians accompanying her on guitar and bouzouki. Her coming album "A place in my heart" bore the title. Here in Quebec, that recording went unnoticed. The album didn't come out but the song was released in the live recording "British Concert" and in the compilation "Spotlight on". | |
| | |
| --- | --- |
| | Several years passed by. In 1984, after 22 years of absence, Nana made her artistic return in her own country. While listening again to the song, she rediscovered the verses expressing very well her mood after this great event. At the same time, that theme applies to many places in the world where Nana went so often that she feels like home. In brief, it's as if it had been written for her. Also, the following year, Nana decided to add it to her repertory. She first recorded it in English, in French and in German, then in Spanish and in Portuguese. |
| | |
| --- | --- |
| In the spring of 1986, Polygram published a promotional maxi 45 rpm of that song in five languages. On the cover, there's a liminous line of the globe. It's mentionned that during the 1985/1986 season, Nana has recorded six albums and that she was number one in six countries. Several copies of that record were sent to radio stations. During months, CFGL-FM broadcasted frequently a home made mixing including an excerpt in each language. The versions in Italian and in Greek will come out later. Each of them is made with the same soundtrack and lasts four minutes. As in the first recording of 1971, there's still bouzouki, which gives a nostalgic touch of her country. | |
In Spanish and in Portuguese, the theme is more similar to the original version; the home. In "Nuestro Hogar" and "O nosso lar", she sings: I hope you to come back home soon and that your warmth fulfill my loneliness. In Greek, "Ah, patrida" has to see with the country: Ah, sweet land, I look at you from far and I count the summits, the roofs and the steeples. While in English, in German and in Italian, the lexical field rotates around the word heart. In "A place in my heart" and "Mein Herz hat noch Platz für dich", it comes down to: There's a place in my heart and nobody in the world loves you as much as me. While in "Un posto nel cuore" verses vary a bit: There's a place in the bottom of my heart that no one will discover, if you desire.
| | |
| --- | --- |
| | PolyGram managers selected it among the selling cuts. In England, Holland, France, Germany, Canada, New Zealand and in Mexico, the song was released on singles. That promotion encouraged the radio stations to broadcast the track in priority and satisfied the public demand. |
As English is the most widely spoken language, "A place in my heart" became the most current version. Depending on the country, England, South Korea, India, Denmark and Holland, covers vary and several compilations bear that title.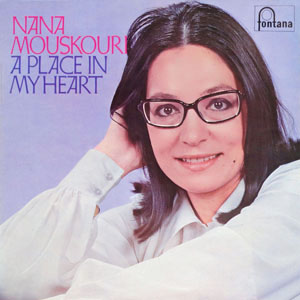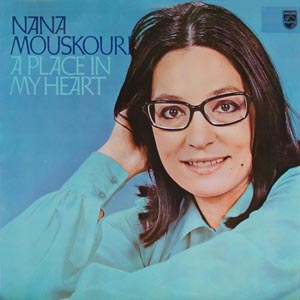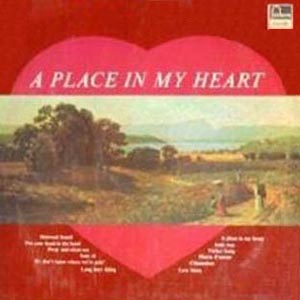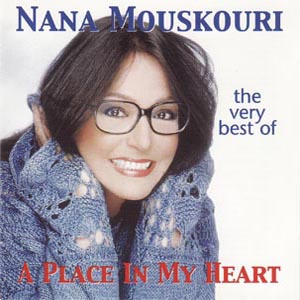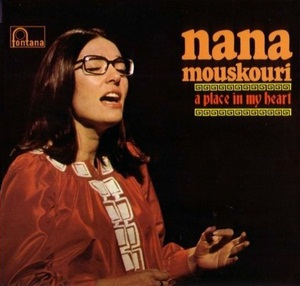 | | |
| --- | --- |
| During his long career, Jean-Pierre Ferland has been a prolific songwriter. He had many hits but "Je reviens chez nous" remains his most popular song. According to him, it gave him over one million dollars. When a journalist asks him if he and Nana see each other often, he answers jokingly that he follows her through his copyrights, as much for her record sales as when she performs. Of course, Nana and Jean-Pierre met a couple of times. They also sang a duet for television and on the stage of Salle Wilfrid-Pelletier. | |
"Je reviens chez nous" is one of those songs that fit the moods and get through the time. Its release marked the return of Jean-Pierre Ferland on the Montreal scene. It also coincided with the affirmation of Quebec identity. Over the years, it became the emblem for the author. By recording it in seven languages, Nana made of it a passport song a bit like "The white rose of Athens", an hymn in which all the nations of the world can recognize themselves.
Mixing of "Je reviens chez nous" in seven languages (Youtube):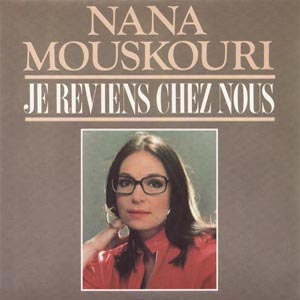 Il a neigé à Port-au-Prince
Il pleut encore à Chamonix
On traverse à gué la Garonne
Le ciel est plein bleu à Paris
Ami l'hiver est à l'envers
Ne t'en retourne pas dehors
Le monde est en chamaille
On gèle au Sud on sue au Nord
There' s a place in my heart
I wish that your eyes could see
And there' s no one on earth
Who loves you as much as me
If you just travel on and on
Till I don't know where
There's a place in my heart
You may never find again
Mis ojos ya no pueden ver
Si el mar es verde o es azul
Talvéz de tanto padecer
Tan larga y cruel ingratitud
Pero aquí dentro más y más
Me está gritando el corazón
Que el duro invierno acabará
Dejando paso a nuestro amor
Doch wohin du auch gehst
Mein Herz hat noch Platz für dich
Da ist niemand in deiner Welt
Der dich liebt wie ich
Und wie weit der Weg dich auch führt
Dort am Horizont
Dieses Herz hat noch Platz für dich
Wenn du wiederkommst
Il tempo delle stelle è qui
un cielo pieno di poesia.
Ti chiedo scusa ma lo so
io non so più mandarti via.
E non importa che sarà,
per quanto io camminerò,
perchè la vita è questa qua
finchè avrò fiato la vivrò.

Eu só peco que nao te demores,
que regresse já
Que preencha este vazio frio
desta solidao
Eu só peco que nao te demores,
que regresse já
E que acenda esta minha chama
que apagada está.

Thimame spitia jamila
Thimame vimata dila
Ki anthropus tis ipomonis
Aderfia isos ke yonis
Thimame dentra ke pulia
Ki afti tin proti agalia
Pu anixa yia na dejto
Athous erotes ki eyo
Fais du feu dans la cheminée
Je reviens chez nous
S'il fait du soleil à Paris
Il en fait partout